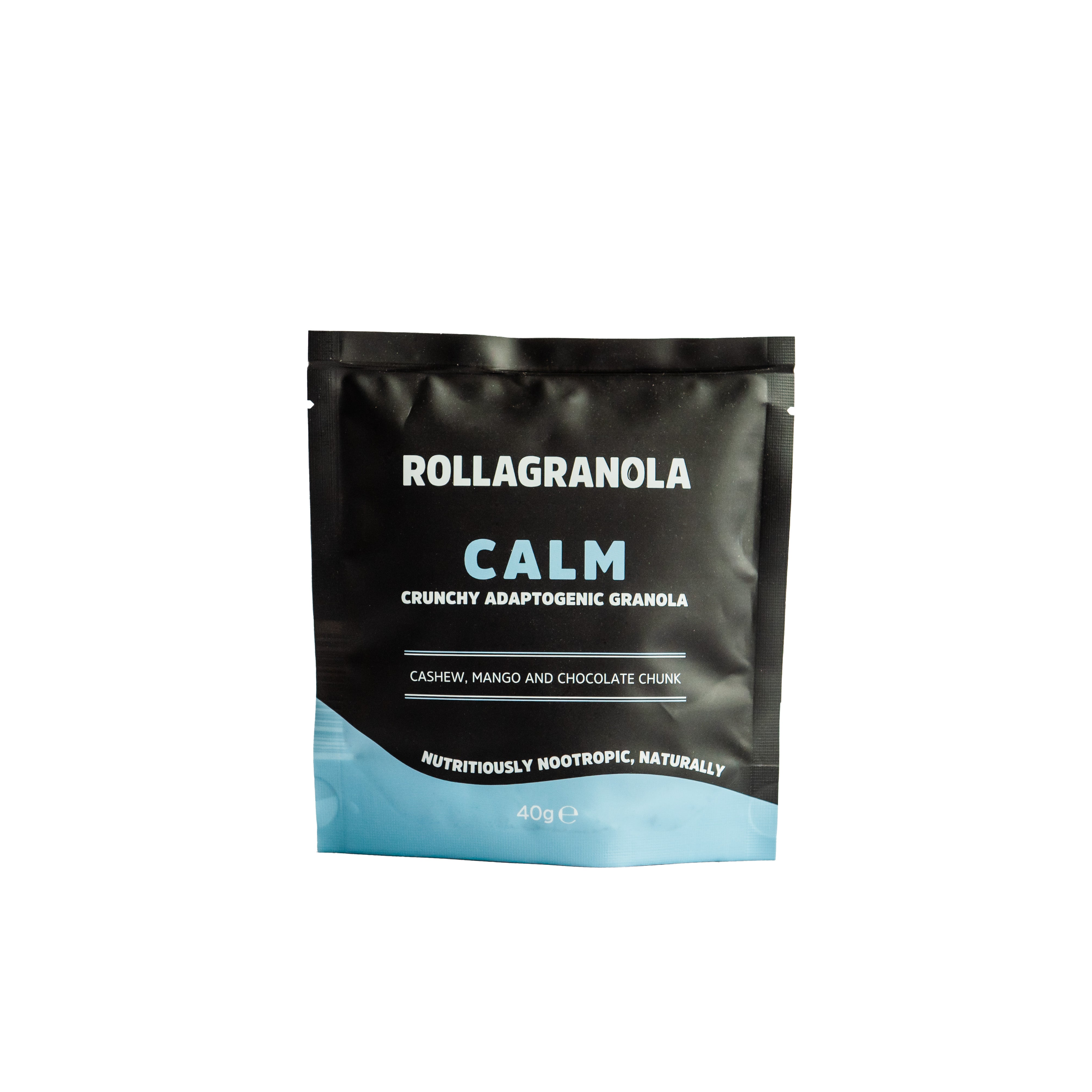 Calm Nootropic Granola Portion Pack
Granola to help promote a calm mindset and reduce stress. 
Nootropic, Vegan, No Refined Sugar, Gluten-Free, Natural
Our Calm stack is purpose built to
empower you in navigating life's challenges. Kick-start your day with this delightful gluten free breakfast granola crafted to equip you with the calm mindset needed to conquer stress, foster positivity and unleash your full
potential.
 This granola contains natural ingredients such as Ashwagandha and Lysine that are proven to lower your cortisol levels, making you more equipped to manage stress levels. These are lovingly blended with Matcha Green Tea and Lions Mane which work to improve and maintain your feel-good mood all day. 
Nootropic stack contains a blend of;
Ashwagandha, Lysine, Green Tea, Lions Mane, Oat straw
Pack Size: 40g (single serving)
Taste
Tropical & Indulgent: Cashew, Mango
and Chocolate Chunk. 
Texture
Crispy and produced with clusters
Perfect with
Eat as you like. Most people will enjoy it with yoghurt and some nut butter or milk / dairy alternatives.
Nutritional Info per 100g: Energy: 2016KJ, 482 kcal, Total Fat 27.86g (of which are saturated Fats 5.73g), Carbohydrates 39.80g, Sugars 14.62g, Protein 13.97g, Fibre 10.70g, Salt 0.31g
Gluten-Free Wholegrain Oats, Cashew Nuts (9%), Almonds, Dates (Dates, Rice Flour), Chocolate (Cocoa Mass, Sugar, Cocoa Butter, Vanilla Powder) (7.7%), Pumpkin Seeds,
Coconut Sugar, Walnuts, Sunflower Seeds, Chia Seeds, Dried Mango (3%), Avocado Oil, Ashwagandha, Lysine, Green Tea,, Lions Mane (powder from fruiting bodies)
Allergens in Bold
All Products are shipped using a 48h service. Order by midday for orders to be shipped same day.

Orders up to £9.99
Orders £10-£19.99
Orders over £20
Join our mailing for exclusive discounts, new products sneak-peaks and updates on the business.