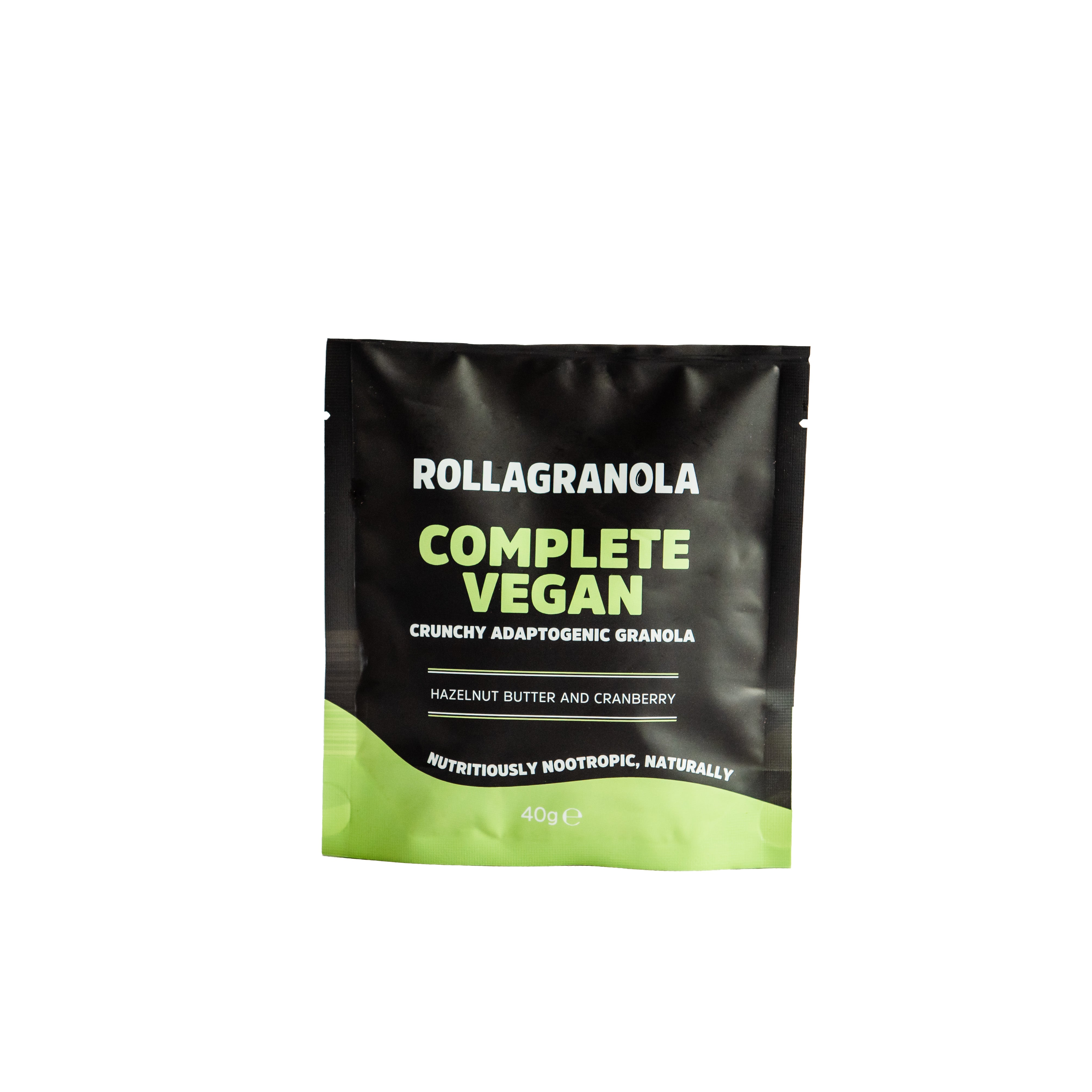 Complete Vegan Nootropic Granola Portion Pack
A granola with all the essential nutrients vegans need but won't get from their diet.
Nootropic, Vegan, No Refined Sugar, Gluten-Free, Natural
The Completely Vegan stack is loaded with all the essential ingredients to help you beat energy crashes and keep you going for longer! We understand that everyone gets energy slumps, which is why our Rollagranola Completely Vegan is here to rescue you from fatigue. 
Our vegan granola is enriched with a powerhouse combination of B-Vitamins, protein-yeast supplement, and iodized salt, all wrapped up in a heavenly package. This dynamic trio ensures you receive the necessary nutrients to fuel your body and keep you going strong.
Nootropic stack contains a blend of; Protein-yeast supplement, B-Vitamins (Thiamin(B1), Riboflavin(B2), Niacin(B3), Pantothenic Acid(B5), Pyridoxine(B6), Biotin(B7), Folic Acid(B9), Cobalamin (B12)), Iodised Salt, Ginseng (Panax), Ginkgo
Pack Size: 40g (single serving)
Taste
Sweet & melt-in-your-mouth: Hazelnut butter and cranberry 
Texture
Crispy and produced with clusters
Perfect with
Eat as you like. Most people will enjoy it with yoghurt and some nut butter or milk / dairy alternatives.
Nutritional Info per 100g: Energy: 403 kcal, Total Fats 20.7g (of which are saturates 2.8g), Carbohydrates 39.2g - Sugars 13.10g, Protein 11.4g, Fibre 7.3g, Salt 0.65g
Gluten-Free Wholegrain Oats, Hazelnut Butter (Hazelnuts,
Rape Seed Oil) 9%, Pumpkin Seeds, Dates (Dates, Rice Flour), Coconut Sugar, Cranberry (Cranberries, Apple Juice) 6%, Brazil Nuts, Cashew Nuts, Dried Apple, Quinoa Crisp (puffed quinoa), Rape Seed Oil, Chia, Yeast Extract (Saccharomyces Cerevisiae (100%)), Vitamins B (B1, 3, 5, 6, 8, 9, 12), Iodised
Salt, Ginkgo, Ginseng (Panax)
Allergens in Bold
All Products are shipped using a 48h service. Order by midday for orders to be shipped same day.

Orders up to £9.99
Orders £10-£19.99
Orders over £20
Join our mailing for exclusive discounts, new products sneak-peaks and updates on the business.